The rural community tourism initiative has been developing among the families of our community since 2002. A sustainable form of community tourism with identity and a more human face, the initiative began with the direct participation of indigenous families in the development of a program offering accommodation and food services for the tourists who visit the region. The basic concept behind the proposal is "coexistence," or to permit a cultural exchange between visitors and residents of the community in addition to the basic amenities of hospitality.
The host families want to show the traveler an authentic way of life that comes from a different vision of the world. The tourist will share in the indigenous culture, enjoy a new environment, experience another way of living and take delight in the nearness of nature and tradition, all with the mark of mutual respect.
Education and Environmental Awareness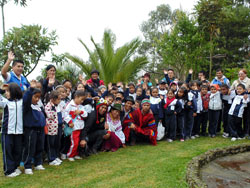 San Clemente is known for its attention to education and environmental awareness. It is fundamental that the new generation of children and young people become professionals who ensure the harmonic development of the community. They must use the necessary technologies without losing their valuable ancestral knowledge, their cultural identity and their ancestral language, Kichwa. This knowledge is fundamental to a sense of empowerment.
We believe that environmental awareness is fundamental for the survival of humanity and the world. For this reason, San Clemente works to conserve and recuperate sites such as water sources and deteriorating forests. Otherwise we would be killing Pacha Mama, our Mother Earth, on whom we depend for our existence. We are conducting programs for forestation and reforestation, waste control, and composting. In the indigenous world, respect for the Pacha Mama is more than a slogan; we practice it in our every day lives.