RAYMIS, PRINCIPAL CELEBRATIONS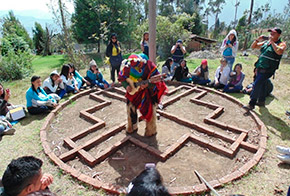 In the Indigenous Andean worlds, traditions are a fundamental part of our existance, especially in relationship of humans and nature. We, the Karanki people, are pre-Incan people. We had our own distinct language. Now we speak a dialect of Kichwa, and we sustain our own music, dance, gastronomy, and clothing. Harmonizing these family and community ways of life, we cultivate infinite experiences that we maintain and practice today. Our most special celebrations are Inti Raymi, Kolla Raymi, Kapac Raymi and Paukar Raymi. Each of these have its distinct matrix in relationship to the specific times in our calendar and within the seasons of the Andes Mountains. The Solstices and Equinoxes are the times when Andean Indigenous communities offer our greatest respect to the relationships between Mother Earth and people. Our Karanki rites, dances, music, and offerings synthesize our daily coexistence of the communities.
PAUKAR RAYMI [FLOWER AND FRUITS FESTIVAL]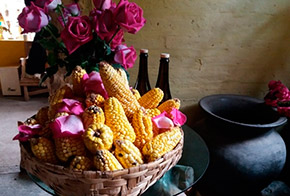 En March 21st, the equinox, we, the Karanki people, celebrate, Paukar Raymi, the Flowers and Fruits Festival, through various ceremonial rites and cultural events. On this day, we give thanks to Mother Earth because, beginning on this date, we can harvest the first tender products of the year.
INTI RAYMI [SUN FESTIVAL]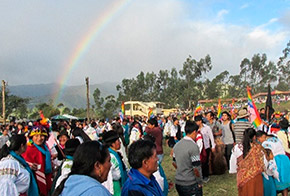 Beginning on June 21st, we, the Karanki communities, begin Inti Raymi, the Sun Festival, the biggest celebration of the year in which we celebrate and thank the sun as we begin good harvests of corn, beans, Lima beans, Lupine beans, squash, potatoes, and grains we get this season, our families' sustenance for the year. We celebrate with ceremonial rites, dances, music, and sharing food among many families, and with all those who participate in the festival. In San Clemente the most important dates are June 27 and 28, and all the people of the world are invited!
KOLLA RAYMI [MOTHER EARTH FESIVAL]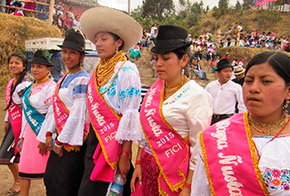 The festival on September 21st of each year is in honor of the Pacha Mama, the Mother Earth. It is equinox, the beginning of winter. On this date the Karanki people start the new agricultural cycle with the sowings of our diverse seeds: corn, beans, beans, cucumbers, among others. In our ceremony is held to ask the Mother Earth to receive in her womb the new seeds for germination.
KAPAC RAYMI [APPOINTMENT OF POWER)]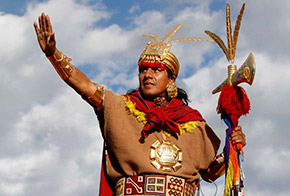 The winter solstice, December 21st, in the different Karanki congregations we hold ceremonies in which sacrifices and promotions of power are made for both the the natural cycle of life in the towns themselves and within the agricultural cycle. In the Andean world, these festivals are very important for generating new leaders and granting power to new generations.